Sometimes I feel alone, and other times I feel like I'm surrounded by other mothers who know EXACTLY what I'm feeling.
I have been so blessed to find a large amount of online support.
By reading other parents blogs (I follow a large number of them), I feel that I actually know these kids and parents. I can recognize them, both in person and their stories, I can really understand the challenges that they are facing (the parents) and feel that they know what I am feeling as well. At times that it all that can be offered, the feeling that someone else has been there and done that. And that I can say the same thing and pay it forward!
I cannot say enough about the support that I have been able to find online (not to say that I don't get support in real life). I remember reading some of the stories in those first couple of scary weeks. And I found it so amazing to see these kids living their life, when I was given the choice to not let this happen to my child. It showed me happiness and silliness and normalness with spina bifida just tagging along.
I think the first blog I ever (and I do mean ever) read was Leigh's about her son
Greyson
. Leigh was one of the first to say how hard pregnancy is - that it is the hardest time. But you don't quite believe it until you are past that. I'm sure I found others. One of my favorites to read is by Joanna about her son
Jet
, not only do you see beautiful pictures of big moments and small, but she writes so wonderful as well.
It is really inspiring to go back to the beginning, that first blog post and see how far families have come from that moment to this.
There are some blogs that really touch me, and I can't wait for the next update! The one that immediately comes to mind is the one written by Jill about her family and son
Kingsley
. I see my family reflected in her family so often. Kingsley is 2 months younger than Nickolas, has 2 older sisters (one Katheryn's age) and then live in Southern Ontario! Stefanie and
Zachary
also live in Ontario, and I've actually be able to meet them!! Zachary is a couple of months younger than Nickolas and goes to Bloorview and Grandview just like Nick. We were able to meet at a mom and baby group at Bloorview. Both these kids are about the same age and level as Nickolas and we all live in Southern Ontario. It's amazing to watch how they have grown with us! To see where we were and where we are now.
I have always had a hard time with names and faces, but I have definately been tested and passed over the last couple of months! I saw
Katie
on a children's show - I actually called Shannen (my sister in law) into the room saying 'look, I know that girl, her name is Katie, I follow her mom's blog!'.
There are kids that are the same age as Nick, some who are older and some who are younger.
It is really nice to read about kids the same age as Nickolas. Even though I still have to be very careful not to compare (can't help it - still do). It is very nice to follow Karen's blog about her son

Carson

, he is just a couple days older than Nickolas.
The older kids help me to see the future. Like from
Caleb
and his mom Cassie. Caleb is 5, and Cassie is an avid blogger, about Caleb and Benjamin - her younger son. She has also introduced me to alot of other kids with spina bifida, when she celebrated spina bifida month in the US by showing us various faces of spina bifida - 69 kids in total! Colleen and
Nate
are another family I love reading about. Nate is 4 and has such an amazing personality! Colleen also runs the baby center site - but more about that later. She is also involved with the SBA (the American Spina Bifida Association) and is very knowledgable!
I've gotten the privilege to 'see' a number of kids born - including
Lane
,
Charlie
and
Zoe
and the newest editions are
Kemper
and
CeCe
. As I've hoped and prayed and sent good happy thoughts on the day and weeks they were born.
There are even some kids that are still waiting to be born, like Lauren and her
baby boy
. It is very satisfying to see people who are right were you were, so lost and confused, and be able to help them, offer the ear to listen and some words of support. And to watch kids grow! Like little
Jacob
, and gorgeous
Ruth
! I have learned alot of what it means to be choosed to have prenatal surgery (MOMS study) as Kelly chronicled her experince with
Greydon
and continues to blog about it.
Everything has helped me to learn more about what it means to be the mother of someone who has spina bifida, and how it impacts not just him and me - but the whole family. Actually it has shown me how much life is not impacted, but just goes on.
There are also families with twins! I can't even imagine!! Holli and her twins
Alexander and Nicholas
were one of the first blogs I read as well, Alex has spina bifida. There is also Heather and her twins Braelyn and Gwendolyn who are just over 1 year old, Gwen (easy name for me to remember - has spina bifida). And a newer read is
Bin and Oaxie
, where Bin has spina bifida. Candice just started a blog, she has 2 kids with spina bifida,
Kennedy and Marcus
; Kennedy is her 14 year old daughter Kennedy and they just adopted Marcus who is one, as well as their other 3 kids!
Recently we got Nick's standing frame. And I knew I had seen one just like it. Yes I had,
Madilynn
! makes me feel that we are headed in the right direction. Recognizing words and tests and equipment and sharing the adventure of those who are ahead and behind us.
I remember the first time I saw
James David's
blog, his mother Brittany has his battle scar in the title. I love it!
All of these kids get around their own way, and a variety of different modes. It really helps making scary things like equipment and wheelchairs not so scary.
Nate
and his red wheelchair have really shown me that it isn't something to be afraid of. That is empowering!
When moms are celebrating, I celebrate with them - like when
Tanner
got up in his walker, and
Kaitlyn
crawled, or
Emma
stood up! When mothers are down, I can help to lift their spirits, or at least know that I have been there too and come out of it. When some moms feel down, I know exactly where they have been - and know that I have bounced back up.
When our kids are sick with various problems associated with our journey, we are the ones that don't need things explained. And can offer or hear some advice that worked in the past. And when they overcome the problems, we can see them perk up as well. Like
Annabelle
and her mom Nicole, who have struggled with UTI's and surgeries and you see how sad they look when they are sick, and then how happy they are when they are better..
Some of the mothers who really seem to know what they are doing (and probably are laughing if they read this - I know I do when people say I seem all put together).
There are so many parents who try to do something to educate others about spina bifida. Kari has a number of websites that help with this. There is the
spina bifida kids
where there is alot of general information as well as guest bloggers. She also has a very extensive list of other blogs. Kari also has a blog about her son
Toby
. And if that isn't enough Kari sells some great spina bifida awareness stuff through her
store
. I have bought a ton of stuff from her! Kari sold the Redefine Spina Bifida shirts (that Leigh's husband Andy helped to design) that we got in November, as well as the spina bifida neclace I wear.
There are other blogs I follow too - I hate forgetting anyone!
I started reading Erica's blog (her son is
Roman
) when she talked on our baby center site about a careless comment made about spina bifida to her mother. Blogs are definately another way to vent after getting those careless and hurtful comments! But Erica's blogs are usually quite funny - always good for a laugh!
Oops I did forget one important blog!
Misty
is an adult with spina bifida. She writes about her thoughts and experiences with spina bifida, and a completely different perspective than I get from mommies and daddies (and very, very important).
Most of the blogs I follow are from the States. All over the states, a couple in Canada and one overseas.
But online support is more than just blogs.
It is facebook, where I have connected with mommies that don't have blogs and seen their kids grow through status updates. Like Lysette and her daughter
Lyla
. They have a caringbridge blog. Good idea in theory - but I can't get updates through my dashboard (which is how I keep track of everyone). Anyone out there know how to do this - I'd love to hear! I actually know 3 kids who have caringbridge blogs, but can't follow any of them without going to the site.
Facebook actually has a very interesting group called
United by Spina Bifida
. This group is something that I hope to explore more, when I have time. There are many groups, but I like that one.
There are 2 forums that I visit quite frequently.
The first is Spina Bifida kids through the
Baby Center
site, which is quite fast moving and full of parents. It is extremely supportive and is the source of both the
Day of Prayer
we had in October and the t-shirts we wore
here
. It is also how I've 'met' alot of parents. Especially when they do a
roll call
!
The other forum I am part of is
Spina Bifida Connection
. This was the first site that I found when I was pregnant! And when I say that it is a life saver - I really mean it! It has adults and new parents with spina bifida who are members, and each member has their own profile page where you can post pictures and have friends throughout the site. You can also see who has posted what and a little bit of statistics inluding location. So when I say that this is an international site - I mean it. Canada, US, Great Britian, Australia, South Africa just to name a few.
It is the spina bifida connection site that gives the most hope. The clearer picture of what a future holds. Whereas the Baby Center site allows me to ask all of those pesky questions and voice my concerns. Like 'is this normal?' 'should I go to the ER' or always 'another poop question' and within a day you should get tons of helpful and encouraging answers.
So what is the first step for parents who are so lost and confused and looking or support? Hopefully I've done alot of work for you! But I found most of these blogs through SB Connection, SB Kids and Baby Center as well as by blog jumping reading one mom's blog, then looking at who she follows, who they follow ect. I have also contacted the
Spina Bifida Association of Ontario
asking if they were interested in doing a feature on online support and blogs. They do have a forum on their site, but it runs very slow. When I have gone on, I have usually been the last one to post. But I have 'met' 2 people through their site. Jennifer and her son
Jake
as well as an adult who lives in a nearby town.
I have also discussed online support and information when we meet monthly at our Spina bifida group at Holland Bloorview. We meet once a month. It is very nice to have that in-person support, but online you know you can probably get someone at any time of the day or night!
So what promted all of this very long and boring without-any-pictures post? (That I should mention I have been working on for 2 weeks!)
There have been a number of things going on in our community. First there was Kingsley. Kingsley went through a very different couple of weeks, with a decompression surgery and his recovery - he is home and where he is supposed to be - but he and Jill were in my thoughts constantly leading up to and during his hospital stay. This was also reflected in the support on facebook and other blogs as well.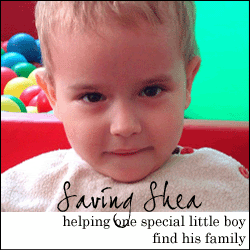 And then there is
Shea
. Shea is a little boy who is in the Ukraine and was born with spina bifida and is up for adoption. Not so simple when children with special needs are difficult to place for international adoption and the alternative is heart breaking, especially when what Shea was born with, is the same that Nickolas and many other of our kids have been born with. Only our kids were born to loving families that have taken up the challenge. Joanna has been working tirelessly in the last couple of weeks (has it really only been since Dec 1) to raise awareness about saving Shea. And a lot of people have taken up her call for support!
Her fundraising has been to raise money for Shea's adoption. This means that a family (and there is one!) that is interested in adopting Shea has help to raise money ($25000) for his adoption.
All of these women and children and families I have thought about and prayed about. I have seen myself in thier words, and yes been glad I have not yet had to face some of the hurdles they have faced. And I have been jealous (even though I try not to be) when they have been able to accomplish things that we are still working on - but have still celebrated these achievements!
I love finding new blogs - I've recently added a couple of them - Vince, Joshua and Silas - and looking back and seeing all the trials parents and kids went through - and how well they've come through! For any parent or just anyone who reads my blog and they are looking for support, or are just lost an confused I hope that you have been able to find something in this post to help you. Also I would love it if you contacted me amanda_in78@hotmail.com. I know that there is one new mother in Toronto who recently gave birth to a child with spina bifida, whose friend knows my mother, Gwenda Bartley.
For now - thank you if you made it through this whole thing! It kind of got away from me!
BTW all kids names should link to their blog - somehow the color disappeared.